Lecciones de liderazgo creativo. Lecciones aprendidas como CEO de Walt Disney Co mpany por 15 años / The Ride of a Lifetime (Paperback)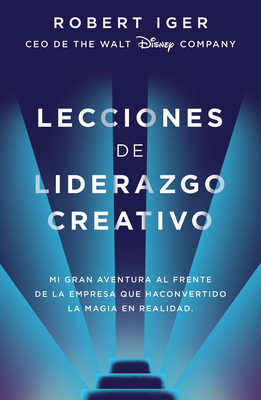 $21.95
This title may not be available -- contact the store for help!
Description
---
El CEO de Disney comparte las ideas y los valores que le han permitido transformar una empresa mágica.

Robert Iger, CEO de The Walt Disney Company, comparte en este libro la visión que le ha permitido reinventar una de las empresas más populares del mundo e inspirar a las personas que dentro de ésta permiten hacer realidad la magia y los sueños de niños y adultos. Iger se incorporó a Disney en un momento difícil. Los cambios tecnológicos acelerados y la competencia más intensa que nunca habían  minado la moral de la empresa. «Sabía que nada ganaríamos discutiendo sobre el pasado», escribe Iger.

«Lo único que importaba era el futuro, y tenía una idea clara de la dirección que debía tomar Disney».

Su visión tenía tres pilares: 1) Crear contenido de mayor  calidad. 2) Abrazar y adoptar la tecnología en lugar de luchar contra ella. y 3) Convertir a Disney en una marca más fuerte en los  mercados internacionales. Doce años después, Disney es la mayor y la más respetada compañía de medios del mundo, y cuenta entre sus empresas con Pixar, marvel, Lucasfilm y 21st Century Fox. y su valor es casi cinco veces mayor que cuando Iger, reconocido como uno de los CEO más innovadores y exitosos de nuestro tiempo, se hizo cargo de ella.

ENGLISH DESCRIPTION

#1 NEW YORK TIMES BESTSELLER • A grand vision defined: The CEO of Disney, one of Time's most influential people of 2019, shares the ideas and values he embraced to reinvent one of the most beloved companies in the world and inspire the people who bring the magic to life.

Robert Iger became CEO of The Walt Disney Company in 2005, during a difficult time. Competition was more intense than ever and technology was changing faster than at any time in the company's history. His vision came down to three clear ideas: Recommit to the concept that quality matters, embrace technology instead of fighting it, and think bigger—think global—and turn Disney into a stronger brand in international markets.

Fourteen years later, Disney is the largest, most respected media company in the world, counting Pixar, Marvel, Lucasfilm, and 21st Century Fox among its properties. Its value is nearly five times what it was when Iger took over, and he is recognized as one of the most innovative and successful CEOs of our era.

In The Ride of a Lifetime, Robert Iger shares the lessons he's learned while running Disney and leading its 200,000 employees, and he explores the principles that are necessary for true leadership, including:

• Optimism. Even in the face of difficulty, an optimistic leader will find the path toward the best possible outcome and focus on that, rather than give in to pessimism and blaming.
• Courage. Leaders have to be willing to take risks and place big bets. Fear of failure destroys creativity.
• Decisiveness. All decisions, no matter how difficult, can be made on a timely basis. Indecisiveness is both wasteful and destructive to morale.
• Fairness. Treat people decently, with empathy, and be accessible to them.

This book is about the relentless curiosity that has driven Iger for forty-five years, since the day he started as the lowliest studio grunt at ABC. It's also about thoughtfulness and respect, and a decency-over-dollars approach that has become the bedrock of every project and partnership Iger pursues, from a deep friendship with Steve Jobs in his final years to an abiding love of the Star Wars mythology.
 
"The ideas in this book strike me as universal" Iger writes. "Not just to the aspiring CEOs of the world, but to anyone wanting to feel less fearful, more confidently themselves, as they navigate their professional and even personal lives."
About the Author
---
Robert Iger es presidente y CEO de la Walt Disney Company. Con anterioridad, fue consejero delegado a partir de octubre de 2005 y director de operaciones de 2000 a 2005. Iger comenzó su carrera en la ABC en 1974 y, como presidente del grupo, supervisó la red de cadenas de televisión, de televisión por cable y emisoras de radio, y guio la fusión de Capital Cities/ABC y la Walt Disney Company. Iger se incorporó oficialmente al equipo directivo de Disney en 1996 como presidente de ABC, propiedad de Disney y, en 1999, recibió la responsabilidad adicional de la presidencia de la Walt Disney International. Ya en este cargo, Iger expandió la presencia de Disney fuera de Estados Unidos y estableció el plan para el actual crecimiento internacional de la empresa.