Climate-Wise Landscaping: Practical Actions for a Sustainable Future, Second Edition (Paperback)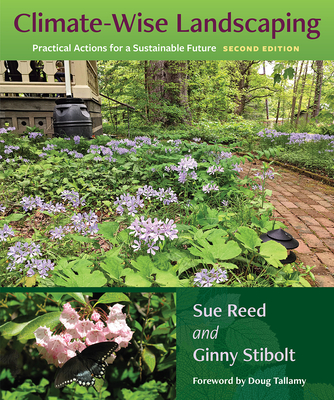 $32.95

Coming Soon - Available for Pre-Order Now
Description
---
What can we do, right now,
in our own landscapes, to help solve climate change?
Gold Winner, Foreword INDIES Book
Awards: Ecology & Environment
"Read this
book carefully. Everything you need to know to help heal our relationship with
planet Earth and empower you to make a much-needed difference is within these
pages."--From the foreword by Doug Tallamy
Praise
for the first edition:
"The
volume of information here is impressive, and each action is accompanied by an explanation
of why it's important. . . . Useful whether read cover-to-cover or dipped into
for specific topics."--
Booklist
"Beautifully
designed, the book is user-friendly and attractive. The information is current
and science-based, with end notes that give readers access to further research."--
Virginia
Native Plant Society
"This
fantastic resource is filled with climate-wise solutions for anyone who owns or
manages a piece of ground--even if it's just a few containers on a tiny rooftop
garden."--Claudia West, ASLA, Principal, Phyto Studio LLC " Reed and
Stibolt] articulate a new gardening aesthetic. . . . The result is a positive
and hopeful story of how people can use their imagination and ingenuity to help
craft more resilient landscapes."--Dr. Peter Robinson, former CEO, David Suzuki
Foundation "Beautiful
photos and pleasing graphics illustrate key ideas and actions while informative
sidebars and inspiring quotes from climate and landscape experts provide
clarity of complex systems and motivation to adapt to a changing future."--Julie
Richburg, Ph.D., ecologist "A book on
climate-wise landscaping could not be more timely or more necessary. We are
moving into a new and critical era, and this book takes landscape professionals
and home gardeners where they need to go."--Owen Dell, RLA, ASLA, landscape
architect, educator, author, Owen Dell & Associates "A very
useful guide to designing landscapes for the twenty-first century which clearly
respond to our changing climate."--Darrel Morrison, honorary associate faculty member
in landscape architecture, University of Wisconsin-Madison Predictions
about future effects of climate change range from mild to dire--but we're
already seeing warmer winters, hotter summers, and more extreme storms.
Proposed solutions often seem expensive and complex and can leave us as
individuals at a loss, wondering what, if anything, can be done. Sue
Reed and Ginny Stibolt offer a rallying cry in response--instead of wringing our
hands, let's roll up our sleeves. Based on decades of experience, this book is packed
with simple, practical steps anyone can take to beautify any landscape or
garden, while helping protect the planet and the species that call it home.
Topics include:

Working actively to shrink our
carbon footprint through mindful landscaping and gardening
Creating cleaner air and water
Maximizing resource efficiency
Supporting birds, butterflies,
pollinators, and other wildlife.

As climate
change continues to intensify around the globe, the information in this second
edition of
Climate-Wise Landscaping
is needed now more than ever. This book is the ideal tool for homeowners,
gardeners, and landscape professionals who want to be part of the solution to
climate change.