Sunny-Side Up (Hardcover)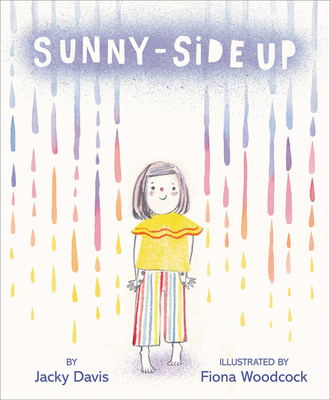 Spring 2021 Kids Indie Next List
---
"The images and color palette of this book really help to illustrate the feelings of a rainy day and the joy that can be found in imaginative play. I also love that the father is represented as the caregiver while the mother is the one coming home from a day of work."
— Dana Grimes, Cover to Cover Books for Young Readers, Columbus, OH
Description
---
Bestselling author Jacky Davis and award-winning illustrator Fiona Woodcock celebrate family, love, and imagination in this vibrant and expressive picture book. Father-daughter time shines in this irresistible story about creativity, solving problems, and looking on the bright side when faced with obstacles. A great read-aloud for rainy days . . . or any day you're stuck at home!
Drip, drip, drop.
With breakfast finished, an energetic young girl is ready to play. But it's raining, and Dad says that she must stay inside. So, she crafts and she builds, she draws and she bakes. What else can she do to find the sunny side of a rainy day?
Keep gloominess at bay with Sunny-Side Up, a wonderful choice about resilience and the power of imagination. A perfect book to share at storytime, to celebrate Father's Day, and to encourage kids—and their parents and caregivers—to use creativity to overcome challenges.
About the Author
---
Jacky Davis along with her husband David Soman, is the creator of the bestselling Ladybug Girl series, as well as Agent Lion, a picture book about a silly but determined detective. The author lives with her family in New York's Hudson Valley. You can visit her at www.blackpolka.com.
Fiona Woodcock knew from a very early age that she wanted to grow up and make art for a living. Since graduating from the Glasgow School of Art in Scotland, she has been living in London and working on animated films, commercials, and other illustration projects. Her pictures have a paper-based handmade origin, incorporating drawings made with children's BLO pens, hand-cut stencils, and printing techniques. Her debut picture book, Hiding Heidi, was nominated for the Kate Greenaway Award in 2017. Fiona was the recipient of a World Illustration Award for her acclaimed picture book Look. She is also the author and illustrator of Hello, a companion to Look. You can visit her at www.fionawoodcock.com.
Praise For…
---
"A rainy day dashes a young child's plans, but with dad's help delight can be found in playing indoors. . . . Rhyming text perfectly captures a young child's desire for independence and control over choices . . . Full of warmth and love. . . . A perfect addition to the rainy-day bookshelf, where joy can be found indoors, knowing the sun will shine again." — Kirkus Reviews (starred review)
"It starts out as a promising morning for a child, with a father-made breakfast of sunny-side up eggs . . . But when Daddy raises the shades, there's no sunshine outside . . . Through a combination of her own ingenuity and parental nudging, the . . . child comes up with activities to make time pass . . . and an internal sunniness returns." — Publishers Weekly
"Looking forward to playing outside . . . [a girl is] disappointed to find it's raining and she'll be stuck inside. . . . [She] uses her well-stocked imagination to create games to play by herself . . . The appealing soft-hued pastel illustrations incorporate a variety of patterns, and subtle details add even more interest . . . This beautiful rainy-day tale, told in a gentle rhyming text, may give youngsters ideas for their next housebound day." — Booklist
"A little girl wakes up joyfully, flinging out her arms in anticipation of the day. . . . The happy mood continues until she and Daddy pull up the shade 'to let the sunshine in, and find / drips of gray sky covering everything.' . . . After some comforting from Daddy, she finds imaginative ways to play . . . A slice-of-life story that truthfully reflects the disappointment of a long, rainy day interspersed with moments of happiness and warmth." — Horn Book Magazine